Yesterday I went to Albert Heijn (AH), my favorite supermarket. I call it my favorite because it's near my house and I can get anything I need to stock my fridge. No to mentioned that at AH I can get some fantastic spring vegetables, from baby carrots with tops, baby fennel with its herby leaves, baby turnips, peas, fine green to yellow French beans.
They are very colourful and easy to cook. Yeah, these are the reasons why I love them so much. I also bought some salmon steaks for dinner. I was really in the mood for some crispy fried salmon with spring vegetables.
What you need:
1 x aïoli recipe
850ml vegetable stock (lightly seasoned)
8 baby bulbs of fennel (stalks removed and herby tops reserved)
4 x 170 – 225g salmon steaks (scored)
1 small handful of fresh mint (ripped)
1 small handful of fresh basil (leaves picked)
extra virgin olive oil
sea salt and freshly ground black pepper
around 100g green beans (tops removed)
around 100g podded broad beans
around 100g podded peas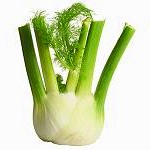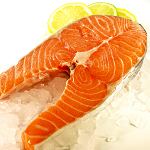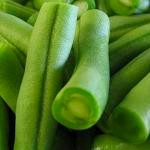 What to do:
Make the aïoli and when you've done that, bring your stock to the boil in a large pan then add your fennel and allow this to boil for 4 minutes while you heat up a non-stick frying pan.
Take your salmon steaks and, if you like it, you could finely slice a little of your mint and basil and push this into the score marks.
Pat the salmon steaks with a little olive oil, season and place skin-side down in the frying pan. Leave them for 2 minutes to get really crispy then check how they're doing. They'll want around 4 minutes on the skin side and 1 minute on the other (you'll see the salmon change colour).
When the fennel has had 4 minutes, add the green beans and the broad beans.
Give them a further 2 minutes. By this time you will probably want to turn over the salmon steaks for their last minute.
Add the peas to the other veg and cook for a final 2 minutes. Don't be tempted to overcook the salmon – remove it from the heat.
Divide the vegetables between 4 bowls, rip over the mint and basil, ladle over some of your hot cooking stock and place the salmon on top.
Serve with a dollop of aïoli.
And as I said, it's easy to cook, colourful and very yummy! Bon apetit!