Last night I was invited to a dinner party at a girlfriend's house. I have always known that she cooks well, but to my (everybody's) surprise, her new boy friend can cook even better! Hot tuna salad with basil crème fraîche á la Jamie, he called the dish. It was a very good dish! And of course I checked the recipe to share with you all.
What you need:
a bunch of asparagus, trimmed
2 handfuls of cherry tomatoes, quartered
a large bunch of fresh basil (leaves picked, baby leaves kept to one side)
a handful of black olives, stones removed
extra virgin olive oil
1 lemon
sea salt and freshly ground black pepper
2 tuna steaks
2 tablespoons crème fraîche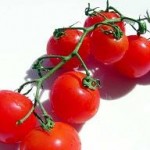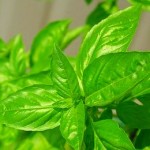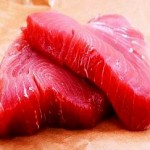 What to do:
Heat a griddle pan until it gets really hot then put your asparagus in it.
Place a heavy saucepan on top so that it presses the spears right down on to the bars.
Cook them for 2 minutes, turning them halfway through, until they have lovely charred marks.
Pop the asparagus on a board and chop them in half at an angle.
Put the asparagus in a bowl with your tomatoes, half the basil leaves, the olives, a splash of oil and a squeeze of lemon juice.
Season them, then toss it all together and put it to one side while you get the fish ready.
Rub your tuna steaks with a little bit of oil and season them.
Sear your tuna steaks for about a minute on each side in the griddle pan for a rare steak – leave them for 2 minutes on each side if you prefer them cooked medium, or 3 to 4 minutes each side if you like them well done.
Pound the remaining basil in a pestle and mortar then mix in the crème fraîche.
Season the basil and add some more lemon juice to taste.
Put the salad on a plate, then tear the tuna into strips and pop them on top.
Spoon over some of the crème fraîche sauce and scatter over the baby basil leaves.
Have a great dinner party on your own and bon apetit!