Let's check the first of my every year major New Year's resolutions:
1. Gaining weight: Unlike some people who actually try to lose some weight, I have been trying to gain it since I was 18 years old. Sometimes you ask your relatives: "Have you eaten yet?" Well, some of mine often ask me: "Do you eat?" Yes, I do but I do not seem to have the ability to gain my weight no matter what I eat.
Some people say that consuming enough of deep-fried foods will help you to gain some weight. Well, I am a little pessimistic about that theory because I have been eating weight gaining foods since the 1st of January. NO OBVIOUS RESULT SO FAR! But I am not going to give it up and will keep on trying. After all, I have had another eleven months to go.
A few days ago, I got an interesting weight gaining food's recipe from an ex collegue of mine. It's called fish, tempeh, chips and mushy peas (FYI: I replace the fish with some tempeh). She said that she had found this recipe online soon after she gave birth to her second child. And one of her New Year's resolutions is losing weight! HOW IRONIC!
But, it sounds very promissing though. Yesterday, I tried the recipe and it was quite good. I think I'll have this food often, and who knows that I'll gain some weight in no time.
What you need:
For the fish tempeh and chips:
Sunflower oil for deep-frying
½ teaspoon sea salt
1 teaspoon freshly ground black pepper
225g nice white fish fillets, pinboned some tempeh
225g flour, plus extra for dusting
3 heaped teaspoons baking powder
900g potatoes, peeled and sliced into chips
For the mushy peas:
a knob of butter
4 handfuls of podded peas
a small handful of fresh mint, leaves picked and chopped
a squeeze of lemon juice
sea salt and freshly ground black pepper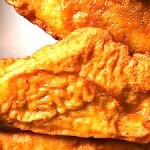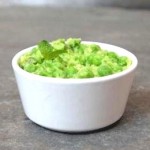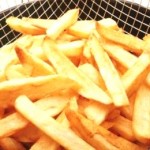 What to do:
To make your mushy peas;
Put the butter in a pan with the peas and the chopped mint.
Put a lid on top and simmer for about 10 minutes.
Add a squeeze of lemon juice and season with salt and pepper.
Mush the peas up in a food processor or mash them by hand until they are stodgy, thick and perfect for dipping your fish tempeh into.
Keep them warm while you cook your fish tempeh and chips.
To cook the fish tempeh and chips;
Pour the sunflower oil into your deep fat fryer or a large frying pan and heat it to 190°C.
Mix the salt and pepper together and season the fish fillets tempeh on both sides. This will help to remove any excess water, making the fish tempeh really "meaty".
Whisk the flour and baking powder together until nice and shiny. The texture should be like semi-whipped double cream.
Dust each fish fillet tempeh in a little of the extra flour, then dip into the batter and allow any excess to drip off. Holding one end, lower the fish into the oil one by one.
Cook for 4 minutes or so, until the batter is golden and crisp.
Meanwhile, parboil your chips in salted boiling water for about 4 or 5 minutes until softened but still retaining their shape, then drain them in a colander and leave to steam completely dry.
When all the moisture has disappeared, fry them in the oil that the fish tempeh were cooked in at 180°c until golden and crisp.
While the chips are frying, you can place the fish tempeh on a baking tray and put them in the oven for a few minutes at 180°C to finish cooking. This way they will stay crisp while you finish off the chips.
When they are done, drain them on kitchen paper, season with salt, and serve with the fish tempeh and mushy peas.
Let's eat. Let's gain some weight and Bon apetit!